Edward Lloyd, 1815-1890
Edward Lloyd was one of the 19th century's leading newspaper proprietors. His two titles—The Daily Chronicle and Lloyd's Weekly Newspaper—were among the century's best sellers, yet he and all his achievements fell into oblivion in the 20th century.
He is now being reinstated to an extent, less as a newspaper magnate than as a publisher of popular fiction. With the advent of internet, his "penny bloods" have gained new fans. He was responsible for one character whose popularity endures to this day—Sweeney Todd.
By understanding what people would enjoy reading, he brought material that was attractive, decent and affordable to poor people. Even his detractors concede that he contributed to literacy. This led to commercial success, driven by his enthusiasm for popular publishing and industrial innovation. He never gave up on his life's work until illness finally overtook him.
Edward Lloyd's chutzpah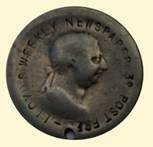 This is a George III halfpenny stamped with the words "Lloyd's Weekly Newspaper 3d Post Free". The scale on which Lloyd did this led to his being denounced in The Times. This created quite a stir, and gave Lloyd's Weekly welcome publicity. As a result, the defacement of coins was made a crime and stamped coins ceased to be legal tender under an Act of Parliament passed in 1853.
Edward Besly, a numismatist and great great grandson of Edward Lloyd, wrote an article about this episode. We reproduce it here by courtesy of the National Museum of Wales.
In another publicity drive, Lloyd sent men out overnight to paint advertisements for Lloyd's Weekly on London's pavements.
Newsagents often boycotted Lloyd's Weekly because the low price prevented them earning a large enough profit, but Lloyd was able to use the postal system instead, as free delivery was included with the Stamp Duty under the 1836 Act.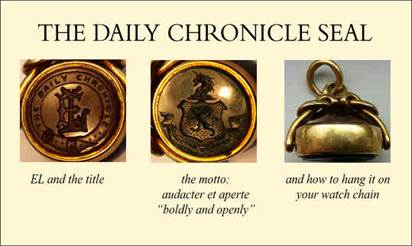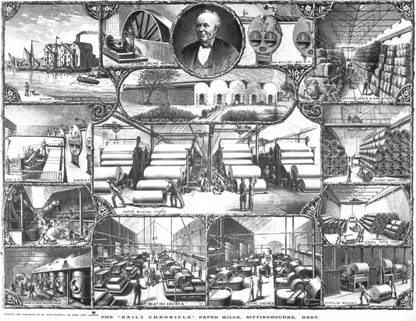 This poster illustrates the paper mills at Sittingbourne.