Lloyd's Weekly Newspaper
This Sunday paper became an outstanding success at the popular end of the market. Marie Lloyd, the music-hall artiste, took it as her stage name because everyone had heard of it. From 16 March 1884, the masthead claimed the "largest circulation in the world".
The style seems forbiddingly respectable and wordy to the modern eye, but its eclectic mixture of news, commentary, reviews, literary extracts, practical information, advice and advertising offered something to interest all readers.
Its success was very much Lloyd's own achievement. The "editor" only wrote the leaders. Lloyd controlled all content, in later years with the help of a trusted sub-editor. He remained wholly in charge of the business management. His last great endeavour was a major reorganisation of the paper.
Launch
Its start had been messy, however. The first seven issues in the autumn of 1842 (as Lloyd's Penny Illustrated Newspaper) were unstamped. The Stamp Office insisted they were newspapers and should be stamped, so, given the success of the Illustrated London News — a first-year circulation of 60,000 despite a cover price of 6d — the relaunched Lloyd's Illustrated London Newspaper, from 27 November, reproduced a view of St Paul's from across the Thames as the masthead (although, with a nice touch of realism, the river was shown as more heavily congested and commercial than the image in Illustrated London News.
After seven issues, on 15 January 1843, the paper was renamed Lloyd's Weekly London Newspaper and dropped the illustrations. For present purposes, it is simply Lloyd's Weekly.
Two retrospectives describe the development of Lloyd's Weekly in some depth: The Romance of a Daring Journalistic Venture from 1903 and From Forest to Fireside from 1906. The first is a general description and the second focuses on the editorial and production processes. My Life's Pilgrimage by Thomas Catling, written in 1911, contains many sections that give insight into the paper.
From 15 January 1843, the title substituted "Weekly" for "Illustrated", illustrations were dropped and the 2d price was raised to twopence halfpenny. On 24 September, the price was raised to 3d. Both price rises were matched by adding value, first by increasing the columns from 3 to 5 and using a smaller type size, then by expansion from 8 to 12 pages. The general format remained in place for 47 years.
The paper's launch was successful—almost too successful for comfort. The 32,000+ copies that were needed to satisfy demand after six months were beyond the capacity of the printing presses. New machinery was immediately ordered. It seems unlikely that Lloyd's failure to anticipate success was due to modesty, so it may be that even his organisational talents were overstretched: 1843 was the year when he moved to Salisbury Square and his other businesses were nearing their peak of activity.
The introductory leader in Lloyd's first stamped number explained that the 2d price had been made possible partly by "our extensive machinery, multiplied resources, and a system of distributed labour" and partly by "an immense capital".2
Distributed labour probably meant piece-rate as the operation called for less than a full week's work. As costs must have been incurred in 1842, the immense capital would initially have been Lloyd's own, possibly with the aid of borrowing.
He formed a private company in 1843. This may have been designed to simplify the book-keeping or to attract outside investors. We have not yet found any indication of these. The option of limiting a company's liability was not available until 1855 (Lloyd only went for that in 1890). Anyone who subscribed in 1843 would have been liable pro rata for all the company's losses.
A troubled decade
Money grew unstable, particularly during the 1848 turbulence. The two decades from 1835 were mildly inflationary, but severe deflation occurred in the late 1840s. In 1847-50, the pound's purchasing power fell by more than a fifth (£100 to £77.06).
For any business with heavy debts, this would have made planning, let alone repayment, a near-impossible challenge. Lloyd would certainly have been indebted.
In February 1848, this led to a compromise of his debts to a type foundry and a paper supplier. How he managed to carry on after agreeing to relinquish "all and every stock in trade, utensils, goods, wares, and merchandizes" is a mystery. But he did it and, moreover, seems to have made large new investments in machinery at the time.
At present, this cannot be verified because, as of 1 March 2015, five issues from 1847 and 20 issues from 27 August 1848 to 14 January 1849 are missing from the British Library Archive. The numbering is uninterrupted and the paper's usual apology for missed production is not included. Quite the contrary.
In the first available issue in 1849, the paper announced enlargement from 12 to 16 pages'-worth of content, achieved by wider pages and a clearer smaller typeface rather than by adding the extra pages.
Had readers been deprived of their favourite Sunday paper for four months, they would hardly have been satisfied by smooth words about expansion. It seems more likely that, as with the move from Lloyd's Weekly London Newspaper to Lloyd's Weekly Newspaper, changes were made in the interim, possibly with effect from the first issue of 1849:
The satisfaction given by the enlargement of Lloyd's Weekly Newspaper is sufficiently evidenced by the increased demand which has since arisen. […] The eminent standing in public estimation achieved by this newspaper, in the face of numerous and powerful rivals, is most encouraging.
The lowering of stamp duty in 1836 had led to a blossoming of the English press. Lloyd's Weekly's first rival was the News of the World, launched ten months later. Lloyd's Weekly overtook it after 1861 when the NoW failed to reduce its price to 1d. By 1863, its circulation was only a quarter of Lloyd's Weekly's.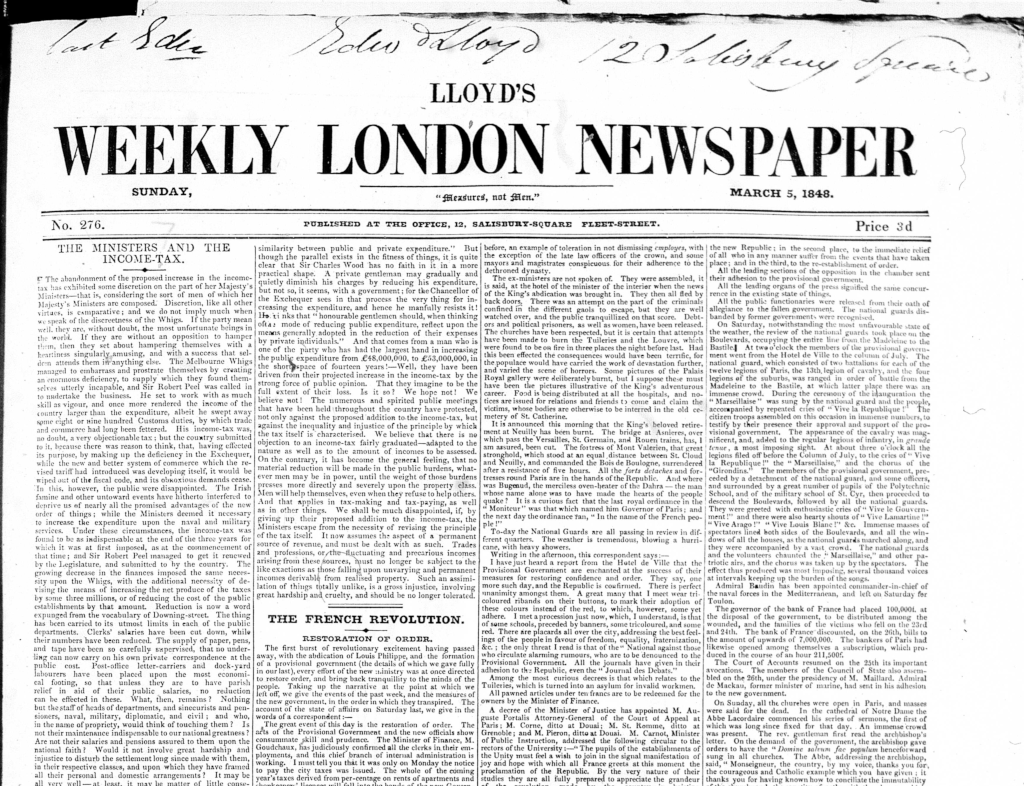 Lloyd's Weekly, 5 March 1848
A second competitor was launched in May 1850 by G W M Reynolds— Reynolds's Weekly Newspaper. Despite considerable success in terms of sales, it failed to match the circulation of Lloyd's Weekly (e.g. 30,000 in 1853 and 100,000 in 1865, against 80,000 and 400,000).
Fate took a curious turn after the death of both Lloyd and the last Reynolds to be interested in running the paper. In 1894, Reynolds News was bought by Henry Dalziel, a Liberal MP. It was he who organised the buyout of the Lloyd papers by Lloyd George in 1918 (see Daily Chronicle), so uniting the old rivals' Sunday papers in single ownership.
Development
The early days of Lloyd's Weekly were hard. Tom Catling wrote: "Difficulties beset every step […] for seven or eight years, the struggle was very severe." It was not selling enough copies. Since it had exhausted early production capacity, any debt incurred in the 1843 expansion would have lain heavily on Lloyd.
The first leader had encouraged "our patrons—the millions" to buy the paper. In its 11th week, it sold an impressive 32,272 copies, but beyond that the millions were slow to oblige. The 24 September 1843 issue rashly said that the proprietor's object was to sell 100,000 a week "and less, as a permanent number, will not satisfy us".
Sometimes interest in the news took demand or circulation well above the target. This may have happened in 1848 when
Lloyd's Weekly
reported the political upheaval in France at length. It certainly happened in May 1851 when the Great Exhibition created a huge demand that the paper was unable to meet. The average over that year was still less than 70,000, and the first of the two notices explaining the situation was, frankly, untrue.
The 100,000 target was not met for 12 years, after the price had gone down to 2d on 1 July 1855 to deduct the abolished 1d stamp duty on news and a distinguished editor had been appointed.
Although Douglas Jerrold's plays are no longer performed and his writings little read, he was a giant of mid-century English culture. He welcomed a readership that included the working classes who would appreciate his outrage at injustice and tyranny, rejection of violent solutions and ability to "mingle fun with reproof, and sarcasm with argument". His editorials brought quality and a formidable reputation to Lloyd's Weekly.
He was held in high esteem both personally and as an accomplished writer, yet he too was a self-made man, albeit one who rose through wit and intellect. He and Lloyd seem to have had a rewarding relationship and it is possible that he helped tame Lloyd's wilder tendencies.
Jerrold's first Lloyd's Weekly was on 18 April 1852. Jerrold steadily raised circulation by at least 10,000 a year. In 1854 it rose to 89,385 and in 1855 it met the 100,000 goal at last.
Douglas Jerrold died on 8 June 1857. Both Dickens and Thackeray were pall-bearers at his funeral. Lloyd acceded to his deathbed request that his son Blanchard should take over as editor.
By this time, Lloyd's Weekly was robust enough to allow Lloyd to wind up his old business in romances and penny magazines. He concluded the process in 1861 with a remainders sale.
Advertising had also become an option after abolition of the 1s 6d duty per ad in 1853, although it took some years to build up a following. Even after stamp duty on news went in 1855, the onerous duty on paper stayed until 1 October 1861.
On 15 September 1861, Lloyd's Weekly pre-empted this by lowering the cover price to 1d a copy. Its growth became unstoppable nand the rise in circulation from 170,000 in 1861 to more than 400,000 in 1865 exceeded expectation. The issue following the price reduction reported that a print run of 369,000 had fallen far short of actual demand.
The note announcing this triumph added that Lloyd had spent £30,000 building and equipping the paper mill at Bow Bridge and that "four gigantic printing machines" were being made for the paper at Hoe's Great Rotary Machine Works in New York. These would have augmented the "ten-feeders" that had called for a Hoe employee to mind them after installation in 1861.
From popular to mid-market
From 1861 onwards, the paper's circulation grew steadily and the content diversified in response to popular tastes. Writing in 1904, the American Henry Llewellyn Williams said of Lloyd's Weekly: "To the British masses it is what the Times is to the official class and The Illustrated News is to society."
Contrary to what some modern commentaries assume, the paper's content was never prurient and only sensational when the facts were outrageous. Lloyd wanted to ensure that the women and children of the house could safely read it without offence.
The news content was strictly factual reporting, without speculation or comment. The leaders contained thoughtful analysis in some depth and never talked down to the readers.
A particularly popular feature, introduced in the early 1880s, was the "Long-Lost Relatives" column. Readers announced the person they were looking for and other readers responded. This, as well as advice given on request, gave readers a sense of personal connection with the paper.
Lloyd's Weekly was soon on sale throughout the UK. It was later expanded to reach the continent and eventually all parts of the English-speaking world. Export markets entailed a longer working week, with an edition for export printed on Thursdays, an edition for remote parts of the UK printed on Fridays and the third and principal edition printed on Saturdays and Sundays. When news was breaking, special editions were printed throughout Sundays to keep pace with it.
The paper was popular in Australia—later one of the main export markets for Lloyd's newsprint—and New Zealand. In 1855, it was already widely available there, as a euphoric advertisement proclaimed. In 1877, it was available in local stores, according to the London correspondent of the South Australia Chronicle. He also wrote: "Mr Lloyd was a great believer in the Australias." It would have been available anywhere if the postal service was used.
Within the UK, the paper could be bought on subscription by postal delivery at 3s 3d a quarter or 6s 6d a half-year, i.e. 3d a copy, with the edition coded in the colour of the wrapper. It could be bought at 1d from a newsagent who collected a farthing per copy in commission.
In 1889, Lloyd clearly felt that the paper had grown tired. The format was essentially unchanged since 1843, although the quality of the print was much improved.
He set about planning a revamp involving the installation of four "gigantic new quadruple perfecting presses". They were made by Hoe's London works, but were severely delayed. Catling attributed the illness that struck Lloyd down that summer to anxiety over the delay, although the work of reorganisation must itself have been quite taxing for the 74-year-old.
Lloyd was saved from a possible error that recalled his early days in popular publishing: he planned to make a serialisation of a mediocre book whose title, The Scallywag, appealed to him as the selling point of the relaunch. He had even commissioned a special typeface for the advertising.
He was eventually persuaded by Catling that this would give the wrong impression and agreed that William Gladstone, then in opposition, should be approached for a contribution as an alternative attraction. The result— The Rights and Responsibilities of Labour—reflected on the duty of moderation that the "labouring classes" now owed society after their elevation from the brutality of toil by the franchise, education, access to information and freedom to ask for higher wages.
Had he lived to read it, it is unlikely that Lloyd would have appreciated the Liberal leader's moralistic and condescending tone towards people whose lives were still crushed by poverty and hardship. In fairness, Gladstone also drew attention to the fact that the reforms were still incomplete.
This abstract article contrasted with the racy novel that appealed to Lloyd's lingering instinct of what the mass of people enjoyed reading. However, Catling's view was vindicated by the continuing rise in sales. In any event, those who would have preferred Lloyd's offering would soon be better served by the new breed of tabloid that was about to take over the popular market. The Daily Mail was launched in 1896 and the Express in 1900.
Lloyd's final plans for Lloyd's Weekly came to fruition on 4 May 1890, a month after his death. The size increased from 12 to 16 pages and line drawings, already used sparingly, proliferated. A new religious feature was added, the first one written by the Archbishop of Canterbury.
Size was again increased with the 50th anniversary issue on 27 November 1892, from 16 to 20 pages. It proudly listed the contributors, who included Conan Doyle and Rudyard Kipling, and denounced the recent practice of publishing syndicated articles that appeared simultaneously in 10 or 20 papers. Since both these well-known authors regularly had their stories syndicated, Lloyd's Weekly's claim to exclusive rights was worth boasting about.
Lloyd's Weekly passed the one million mark (1,004,406) on 16 February 1896—his 81st birthday, had he still been alive. By 20 December this had risen to 1,053,923. Lloyd would have been delighted by the increased demand for advertising space too.
With many of the population wanting to know how their relatives at the front were faring, WWI boosted all newspapers' circulation. Lloyd's Weekly's rose to 1,500,000.
Decline and fall
In 1918, when the Daily Chronicle was acquired by Lloyd George's political friends, Lloyd's Weekly went with it. He sold both titles in 1927 to financial investors who got badly burnt and a new buyer in 1928 collapsed in the crash of 1929. The popularity of Lloyd's Weekly had dwindled in any event. The editor was Ernest Perris, also editor of the Chronicle, so it may simply have been neglected. We have not yet discovered the circulation numbers.
Edgar Wallace's enthusiasm in 1930 to take over the Sunday News, as it was called by then, showed that it was still a well-known title. Despite his fame and the fanfare at the time, it did not recover. In 1931 it was sold to Allied Newspapers where it was incorporated into the Sunday Graphic. That disappeared in 1960 after being subsumed into The Sunday Times, by then owned by Thomson.
The paper's name changed six times:
| | |
| --- | --- |
| 1842–1842 | — |
| 1842–1843 | — |
| 1843–1849 | — |
| 1849–1902 | — |
| 1902–1918 | — |
| 1918–1924 | — |
| 1924–1931 | — |
| 1931–1960 | — |
References to the title show some fluidity. As late as 1866, Lloyd was advertising it as Lloyd's Weekly London News. In 1919, newsstands were calling it plain Lloyd's News.
References
---