Bow Bridge
With the removal of the Newspaper Stamp in 1855, and the subsequent explosion in the production of popular newspapers, it was inevitable that there would be a shortage of paper. Lloyd's propensity for innovation met the challenge and he decided to make his own paper. He acquired the lease of a 6-acre plot at Bromley-by-Bow between the River Lea, Hancock Road and Priory Street in 1859 (extended in 1874) and built a paper manufacturing plant. He also installed a Hoe printing press which served him well after the disastrous fire at his Salisbury Square Premises in December 1873.1
Map of Lloyd's Paper Mills at Bow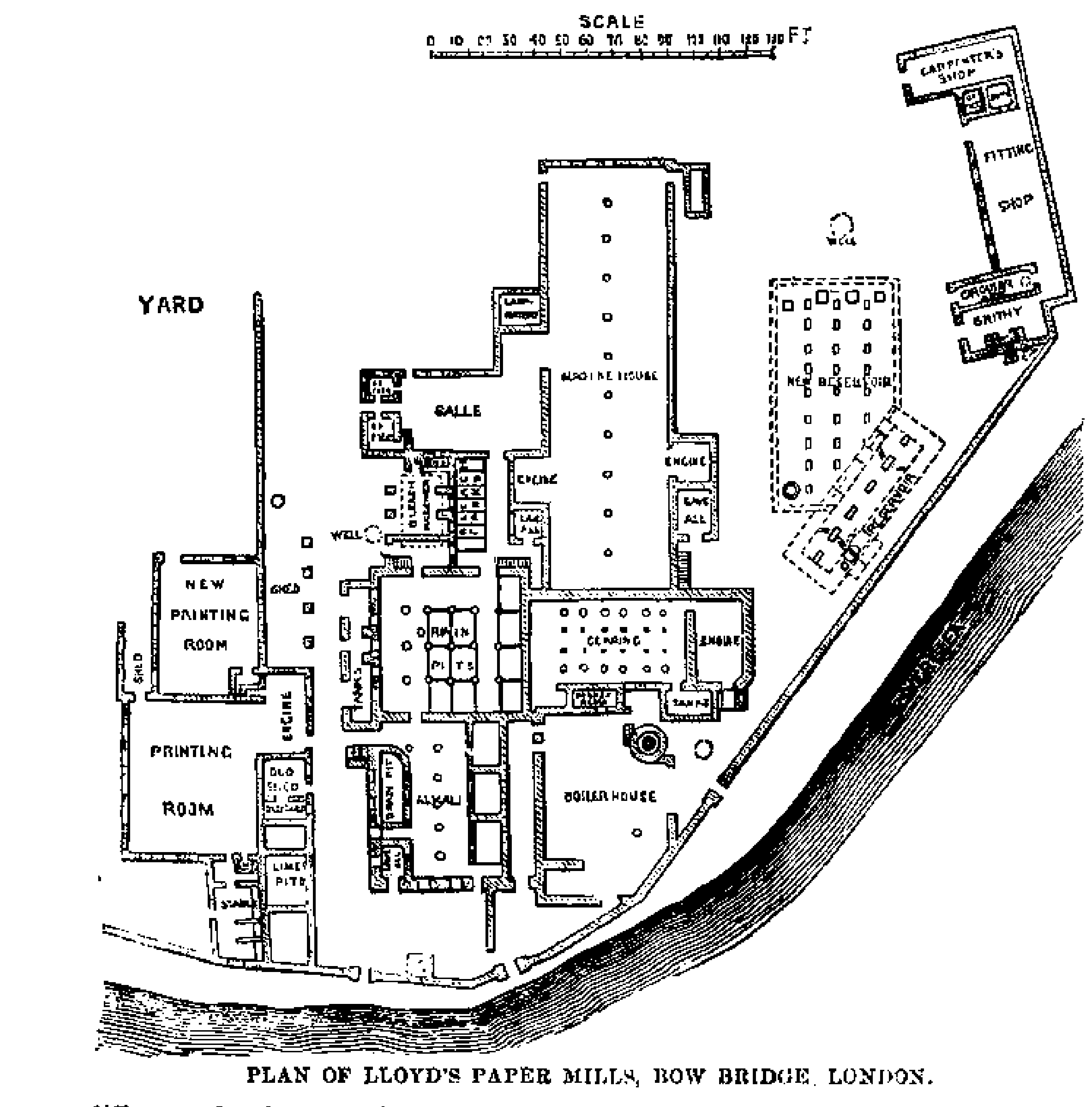 A plan of the installation at Bow, The Engineer, 1867. The building to the left of the plan housed the printing operation and the larger part was taken by paper-making. The shaded line represents the River Lea.
A description of work at the site in 1875 is given in Chapter 12 of East London Industries, by William Glenny Crory2, a journalist on the East London Observer. Lloyd was making enough paper to supply other papers in London and the provinces. After Lloyd's expansion at Sittingbourne, the mill was supplying the world and in particular the press in the British colonies. Crory wrote:
I was most courteously received by Mr Frank Lloyd who showed me over the premises. […] There are about 200 hands employed. I am also happy to find these employees of a very good type; in fact, the whole place is orderly, the people at work are attentive, and the mill is most ably conducted by a manager, whose venerable appearance and general bearing offer an assurance that all goes well.
Mr Lloyd has ever been a man of progress, as every apparatus in use in the mill shows. […] The machinery at work at this mill is remarkably well kept, and the best of its kind. […] Even [the] storing and filtering appliances prove that no cost is spared and no pains considered too much in doing everything attempted in the best possible way.
A machine that caught Crory's eye was a mechanical stoker for the boiler, made by Dillwyn Smith. It saved coal, lessened labour and economised on heat as no cold air got in while the boiler was being fed.
Lloyd's last operations at Bow were moved to Sittingbourne in 1877. According to Henry Massingham, editor of the Daily Chronicle in the 1890s:
Mr. Edward Lloyd's old mill was fixed at Bow, and remained there until the befouling of the Lea forced its owner to go further afield for pure water. He found this at Sittingbourne, where his present factory is established, and where are stacked the huge stores of wood, already partially reduced to pulp, esparto grass, and all the other materials which the modern papermaker is able to work into his fabrics. 3
On 21 June 1892 the site at Bow was subleased to David and Alexander Hutchison, iron founders. The leases still belonged to the Lloyd family trust in 1942.
References
---