Edward Lloyd's life and times
Edward Lloyd was born on 16 February 1815 into a modest family. His father was in trade in the City of London and no stranger to the bankruptcy court.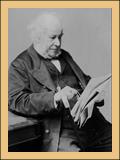 He was the youngest of three sons. Nigel Lloyd's research suggests a family with the attitudes of the middle class, albeit without the financial security that would normally have gone with it. His eldest brother, Thomas, made a successful career in medicine although the middle son, William, died in poverty.
Edward Lloyd's education to the age of 14 was fairly generous at a time when the poor received little or no schooling. He was intelligent, energetic and enterprising, and claimed to have started on his life's career of publishing as soon as he left school.
The law may have been intended for him. However, while working in a solicitor's office, he attended classes at the London Mechanics' Institute. He won a silver pen as prize for best student of the year, and treasured it all his life.
For many years, he lived in rooms on the periphery of the City marrying Isabella McArthur in 1834. The and they had three sons, one of whom died in infancy.
From April 1844, although still married to Isabella, Lloyd had set up house with Mary Harvey in Forest Hill. She was the wife of Lloyd's paper supplier William Mullet and the liaison led to Mullet suing Lloyd for "Criminal Conversation" in December 1844. William Mullet had discovered the affair and his revelations to Isabella caused her to move out of Salisbury Square. Lloyd and Mary had a child, Frederick, who was born in February 1845.
Lloyd had a second brush with bankruptcy in 1848, but managed to come to a voluntary agreement with his creditors.
Mary died of cholera in August 1849 and Frederick was brought up by his father.
At the 1851 census, Lloyd is shown as living with Maria Martins in Acton Vale. Their first child, Annie, was born in 1853.
In 1852, he appointed the respected author and playwright, Douglas Jerrold, to be the editor of
Lloyd's Weekly
.
In 1854, he published his last romance and, in 1856, he could afford to buy the 100-acre Winns estate in Walthamstow. The house was the fine Georgian mansion, now the William Morris Gallery, that is familiar to Londoners heading east on Forest Road.
Edward and Maria lived together as man and wife, had eleven children and were finally married after the death of Lloyd's first wife Isabella in 1867. They went on to have another four children
Ever more prosperous, the family was moving from the bourgeoisie into a full-blown London society life—their daughter Emily was presented at court and the Lloyds moved to 17 Delahay Street, Westminster in 1885. This was in the parish of St Margaret's Church, Westminster. The whole family showed great dedication to church and parish. Two of the daughters, Annie and Clara, married curates at the church, R A Bullen and F E Coggin.
In 1889, Edward suffered what may have been a heart attack while working on a major reorganisation of Lloyd's Weekly. Once over the worst, he continued to supervise operations and, after convalescing at his house in Caterham, he returned to London, went on working, wrote his will and the family trust deed, and created Edward Lloyd Ltd so that the business could be passed on to his children in an orderly way.
Edward Lloyd died on 8 April 1890. His funeral was held at St Margaret's with the help of his two sons-in-law. The flowers and wreaths from family, friends and employees were so plentiful that a second hearse had to be used to take them to Highgate Cemetery. Maria died on 28 July 1893, aged 63.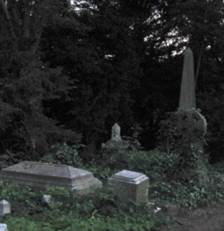 Edward and Maria share the tomb at the left in Highgate Cemetary. It is positioned at the crest of the hill
References
---