Douglas Jerrold
Jerrold's father, Samuel Jerrold, was an actor and lessee of the little theatre of Wilsby near Cranbrook in Kent. In 1807 Douglas moved to Sheerness, where he spent his childhood. He occasionally took a child part on the stage, but his father's profession held little attraction for him. In December 1813 he joined the guardship Namur, where he had Jane Austen's brother Francis as captain, and served as a midshipman until the peace of 1815. He saw nothing of the war save a number of wounded soldiers from Waterloo, but he retained an affection for the sea.
The peace of 1815 ruined Jerrold's father; on 1 January 1816 he took his family to London, where Douglas began work as a printer's apprentice, and in 1819 he became a compositor in the printing-office of the Sunday Monitor. Several short papers and copies of verses by him had already appeared in the sixpenny magazines, but his career in journalism started when working as a compositor for the Monthly Magazine. Confident that he could do as well as the magazine's contributors, he wrote an anonymous review of a performance of Die Freischütz that he had enjoyed the previous night. The editor liked it a lot, had Jerrold typeset it and gave instructions to trace the author.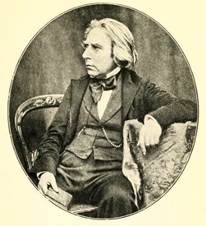 Jerrold's reviews, essays and poems were soon accepted by all the leading journals. He wrote every week for Punch from its second issue until his death. An accessible example is Mrs Caudle's Curtain Lectures, an entertaining reflection on contemporary problems of domestic living told through the diatribes of a nagging wife.
His many talents did not include a good head for business. He ran up crippling debts on a venture of his own, Douglas Jerrold's Weekly Newspaper. He was depressed by this when Lloyd first invited him to be editor of Lloyd's Weekly. The invitation did not specify a fee and, imagining the work might hinder his earning elsewhere, Jerrold declined. Lloyd wrote back immediately saying that he had forgotten to name the fee. When he did — £1,000 a year — Jerrold visited Salisbury Square without delay.
Jerrold had a firm friend and admirer in Dickens who wrote a long essay of appreciation after Jerrold's death (partially accessible free in Volume 2 of The Complete Works of Charles Dickens). He made an approving reference to his old adversary, Lloyd: "the proprietor of Lloyd's Weekly Newspaper proposed the editorship to Jerrold on terms of such wise liberality as to ensure the ready acceptance of his offer.".
References
---